Tessitura Toscana Telerie, "Spheres Magiques - Green", Pure linen printed tea towel.
---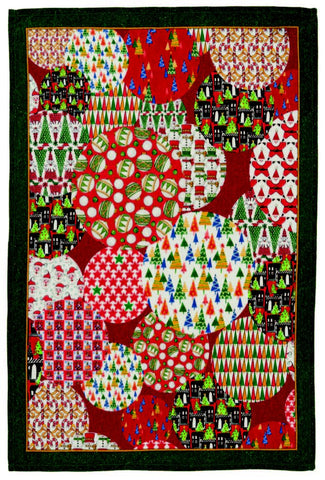 Linen Tea Towel ""- "Spheres Magiques - Green". Magical green spheres or Christmas Baubles is the title for this festive themed tea towel. Creating a mosaic or patchwork quilt effect a collection of beautiful baubles decorate this linen tea towel. Each individual bauble has its own design ranging from, Christmas trees, snowmen, stars, Santa and candy sticks. The design is completed with a deep green border, trimmed with a hint of gold. This linen tea towel is absorbent and lint free, excellent for drying, polishing glassware and crockery. Hanging loop top right. 
Washing Instructions: Machine washable at up to 40°C. For the best results let the tea towel dry naturally. Dry cleaning and tumble drying can weaken the linen fibres. It is recommended to wash the tea towel a few times prior to usage as this increases the absorbency.
Pure linen printed tea towel
Christmas Tea Towel
Italian
100% linen
Absorbent & lint fee
Excellent for polishing glassware 
Related Products
---