Kilo Euro Scrubby - Pack of 3
---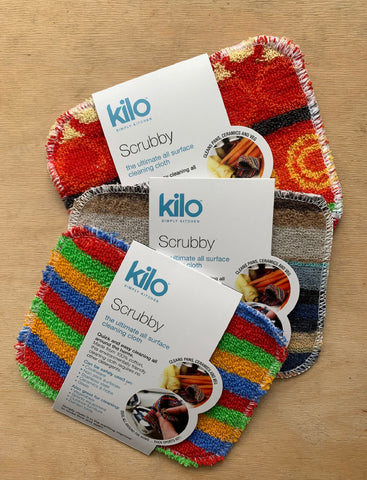 Kilo Scrubby - We love this item - it's the ultimate cleaning cloth for your kitchen. Made from 100% cotton this environmentally friendly cleaning cloth requires no other detergents. Use it for: - Cookware - Non stick surfaces - Stainless steel - Ceramics - Glass. You can also use yourScrubby for: - Cleaning vegetables - You can even use it for decorating. Size:- 16 cms x 12 cms - 6.3" x 4.7". Please note that the designs my differ from the image.
N.B. This is  sold as a pack of 3  Scrubbies. Formerly known as euro Scrubby they are exactly the sae item.
Machine washable at up to 60 C, do not mix with delicate items.