Tessitura Toscana Telerie, "Noel Gourmand", Pure linen printed tablecloth.
---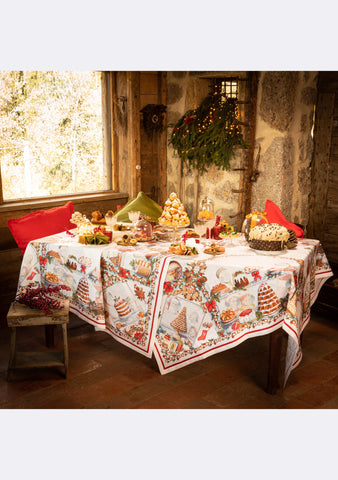 Linen tablecloth "Noel Gourmand"- "Gourmet Christmas". Charming and traditional Christmas tablecloth, featuring delicious festive delicacies. The design is set against the backdrop of a baker's window with Father Christmas and two young children eyeing the scrumptious Christmas cakes, puddings, and biscuits.  Printed on pale cream linen the design is trimmed with an attractive border of foliage and gingerbread biscuits.  This square tablecloth is perfect on a square or round table and works particularly well as a centre piece on a much larger table too. Presented in an attractive plastic sealable pouch.

Machine washable at up to 40°C  for the best results let the tablecloth dry naturally. If tumble drying, dry at a very low temperature.
100% linen
Christmas Tablecloth
Naturally Antibacterial
Designed & Made in Italy

Attractively Packaged 
170 x 170 cm  
Larger sizes are available as a special order please email info@home-landing.co.uk or call +44 (0)1635 48521
160 x 230 cm - 63" x 90"   £142.50
170 x 270 cm – 67" x 122" £160.00
170 x 360 cm – 67" x 141" £225.00
Related Products
---